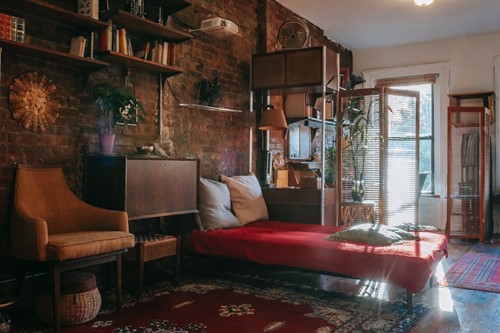 Living in a rental property can limit your interior design options. Depending on the terms of your lease, it might prohibit you from renovation of any kind—even putting holes in the wall. For many, this can prove frustrating when wanting to divide up a space. Luckily, we've put together some simple and temporary room divider ideas that are perfect for rentals.
Shelves & Bookcases
A trendy and useful way to divide up a space is by using a tall shelf or bookcase. In a small space, using an open-backed cubby-style bookcase is ideal because it allows air and light to pass through. If you want to create a bolder division or add privacy, using a solid-backed bookcase or shelving unit works perfectly. Since these furnishings are freestanding, they won't violate any lease terms and you can move them wherever you want if you change your layout preferences. As a bonus, you add precious storage space and opportunity to display decorative accessories.
Folding Screens
Folding screens may seem old-fashioned, but there are many contemporary screens on the market today that can help you divide up a space. Screens like these come in a plethora of styles and materials, from lattice-style to semi-opaque fabric and more. Depending on the level of privacy you want you can either choose a screen that blocks off a portion of the room entirely or one that is less obtrusive and allows for natural flow. Folding screens are temporary and easy to change on a whim. Look for screens on casters for extra convenience.
Furniture Placement
Even without adding new furniture it may be possible to create a clear division of space with the pieces you already have. A classic example is to place a sofa or chair on an open part of the floor and face it toward the wall. The back of the sofa or chair creates an instant dividing line that you can enhance further by moving a table, cabinet or sideboard up against it. Facing seating in towards each other will create a cozy feel and set that portion of the space apart from the rest. Experiment with different furniture placement and you might find it easy to create natural divisions of space.
Area Rugs
Similarly to furniture placement, rug placement can have a huge effect on the layout of a room. To define two specific areas, for example, place two different rugs of similar size with an empty space between them. The space creates a natural visual definition, adding nothing vertical to the space. Try this method when separating a dining area from the living room or sectioning off an office or reading nook. If you move out, the rugs can go with you to your next abode leaving no damage.
These are just a few ways to add division to a room of any size with no need for construction. These strategies are perfect for renters or even just for people who want the freedom to change their minds. By choosing temporary but effective room dividers you can make a space more defined and even seem larger than it truly is, all without leaving a trace.